Arrowhead United Way works to end America's education crisis
Education is the cornerstone of individual and community success. But with more than 1.2 million children dropping out each year, America faces an education crisis. The cost? More than $312 billion in lost wages, taxes, and productivity over their lifetimes.1These trends are reversible, but only when communities and public, private and nonprofit sectors work together.

Our Education Programs
Reading to Inspire
Reading to inspire is a program that utilizes local community volunteers to read out loud to students at an Elementary school within our service region. The selected school receives a generous donation of books that can go to the library or to the classroom. By having volunteers from various professional backgrounds come and read to classrooms, the students are able to become inspired to dream and achieve their future goals.
Arrowhead United Way's STEM Program
The STEM program is designed to help our youth become more passionate about coursework in science, technology, engineering, and mathematics. The goal is to sign-up approximately 160 youth in 6th and 7th grade from our local school districts, to participate in our two-part program. Student participants are selected by their school based on the school's criteria. The first part of the program has students attend a full day of STEM-related hands-on activities. Part two of the program is where students participate in a 5-day camp. 
Next Steps Mentoring
It is an ongoing program designed to nurture and guide young women during a crucial period in which they develop the foundation of a responsible and secure future by assisting them in taking the next step toward their future.
---
How Can You Help?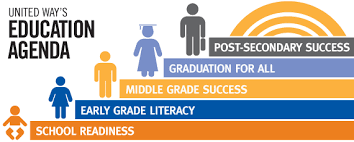 To reach our goal, we need your help. The strategies proven to work are those that connect communities to their schools: parent involvement; literacy volunteers in the classroom; mentors for disadvantaged students; business leaders engaged in early childhood advocacy.
Volunteer to help.